Tattoo of the Day
05.17.18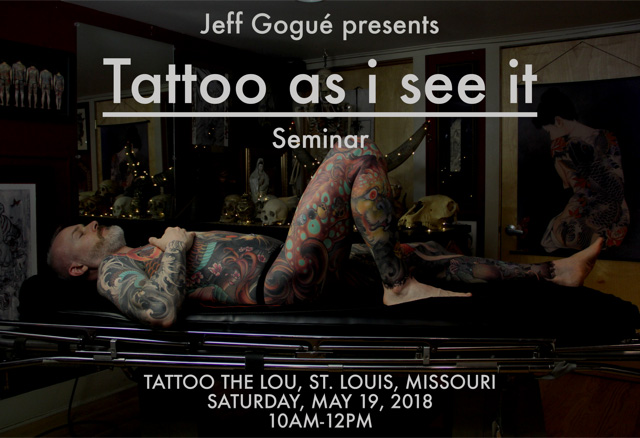 SATURDAY, MAY 19, 2018, 9:30AM-12PM.
After 18 years of professional tattooing and achieving worldwide recognition and respect among the tattoo community, Jeff has developed a revolutionary approach to tattooing. Gogue's focus on large scale tattoo projects and full coverage tattooing has brought him an esoteric understanding of the role of tattooers in the lives of their clients. In an intensely revealing presentation. Jeff folds personal insights, practical techniques and spiritual aspects into one powerful experience that helps to crystalize a new level of understanding for the audience. The seminar examines the artist's personal journey in tattooing, from the acquisition of basic skills to the achievement of long-term goals, shares highly effective daily routines, teaches the importance of relating to and serving clients, and ultimately provides a deeper understanding of oneself and the enormous role of the artist in the lives of the people they tattoo. Jeff is proud to be attending and speaking at Tattoo The Lou in May 2018.
05.11.18
Spanning the course of seven years, this self-produced short documentary shares the journey of Oregon based tattooer, Jeff Gogué, as he travels to Yokohama, Japan to get his back tattooed by world-renowned tattoo master, Shigenori Iwasaki (Yellowblaze). The candid behind-the-scenes travel footage, coupled with the stories of four of Jeff's own clients getting large scale tattoo work, and their perspective on the process and consequences to having such work done is sure to evoke introspection, imagination, and understanding whether you have tattoos, make tattoos, like tattoos or not.
About Jeff Gogue Jeff began tattooing in the summer of 1999 while in his mid twenties in a small northern California town. Over the past eighteen years, Jeff has become an influential contributor to both the culture and community of tattooing worldwide. With numerous international awards and a global audience, Jeff uses his platform to share unique perspectives on the art form and its current movement. Jeff's previous documentary work includes Tattoo As I See It. For the last twelve years, Jeff resides in Grants Pass, Oregon where he works at Off The Map Tattoo Northwest. For more information about Jeff, please visit his website, Facebook, YouTube at and follow him on Instagram at @gogueart.
BRANDON DAVENPORT has been tattooing for 16 yrs. He currently works at Kingpin Tattoos in Ft.Hood, TX. Brandon has over 60 awards to his name and specializes in Japanese, New School, and biomechanical tattooing styles.
The days that Brandon will be guest spotting are:
June 7th- June 9th
June 21st- June 24th
July 6th- July 8th
July 19th- July 22nd
August 9th- August 12th
For bookings, please contact Brandon at: brandontattooworks@gmail.com
We will be working by APPOINTMENT ONLY on Sunday 05/20. If you have a scheduled appointment your artist will be here.
For scheduling or general information, please email powerlinetattoo@gmail.com or leave us a voice mail at 401-369-7771. Thanks!